Washio Sumi is a Hero (鷲尾須美は勇者である, Washio Sumi wa Yūsha de Aru?) is an illustrated novel that serialized on Dengeki G's Magazine starting from its June 2014 issue. Its story is set two years before Yuki Yuna is a Hero under a similar setting. In the story, three main characters including Washio Sumi, Nogi Sonoko and Minowa Gin are selected as Heroes to fight against the Vertexes.
No
Title
Release Date
1
Washio Sumi (

わしおすみ

Washio Sumi

?

)
April 30, 2014
2
Minowa Gin (

みのわぎん

Minowa Gin

?

)
May 30, 2014
3
Nogi Sonoko (

のぎそのこ

Nogi Sonoko

?

)
June 30, 2014
4
Battle (

たたかい

Tatakai

?

)
July 30, 2014
5
Farewell (

さようなら

Sayounara

?

)
August 30, 2014
6
Fairy (

せいれい

Seirei

?

)
September 30, 2014
7
Promise (

やくそく

Yakusoku

?

)
October 30, 2014
8
Friends (

ともだち

Tomodachi

?

)
November 30, 2014
Ex
Special Newly Written Story
December 19, 2014
Yuki Yuna is a Hero: Chapter of Washio Sumi
Edit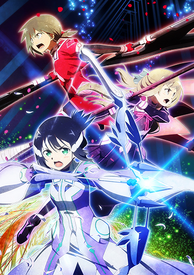 Yuki Yuna is a Hero: Chapter of Washio Sumi (結城友奈は勇者である: 鷲尾すみの章 Yuki Yuna wa Yuusha de aru: Washio Sumi no Sho) is the newest edition to the franchise. It will be the official animation of the novel and has been separated into 3 movies (Friends, Spirit, and Promise), and will then air as a television show. Significant differences will be seen between the animation and the book, and the movies will be slightly different then the anime.
External links
Edit
Illustrations
Edit
Black & white
Ad blocker interference detected!
Wikia is a free-to-use site that makes money from advertising. We have a modified experience for viewers using ad blockers

Wikia is not accessible if you've made further modifications. Remove the custom ad blocker rule(s) and the page will load as expected.